Connecticut Magazine | consistently ranks Wilton in the Top 5 towns to live in Connecticut.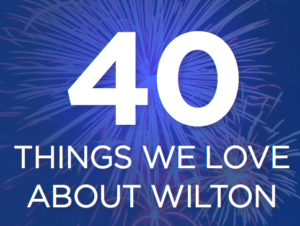 Rich History | Wilton is a beautiful and historic town that dates back to 1640. The Town of Wilton celebrates a rich New England history and boasts many historical landmarks, which serve as a testament to its colonial roots.
Living Traditions | Wiltonians are proud of their traditions like the annual Memorial Day parade and Fourth of July Festival. Several non-profit organizations such as The Amber Farm also help preserve the experience of Wilton's heritage by, for example, operating a sustainable organic farm and producing fine maple syrup every winter.
Community Resources | Beyond Wilton's highly regarded public school system, there are arts, cultural and recreational opportunities for all to enjoy. The Wilton Library, The Wilton YMCA, The Trackside Teen Center and dozens of non-profit organizations offer a full range of services to Wiltonians.
Home Options | What ever your stage in life, Wilton has a variety of single family, townhome and apartment choices across a range of price points. New residents consistently say the reason they choose Wilton is "that it simply offers the best home and community for the money in Fairfield County."
Central Location | Access is one of Wilton's greatest benefits. Whether its five hospitals, the world of New York City or a just stroll on the Sound, it's accessible from Wilton.